HealthConnect One — Policy Advocacy and Conference Coordination
http://www.healthconnectone.org/pages/overview/100.php
HealthConnect One has promoted child and maternal health since 1986.  HCO's largest program, The Harris Doula Institute, replicates their community-based doula model across the country. A community-based doula is a trained indigenous community leader who mentors pregnant women during the months of pregnancy, birth and the immediate post-partum period, leading to an increase in positive birth and family success outcomes.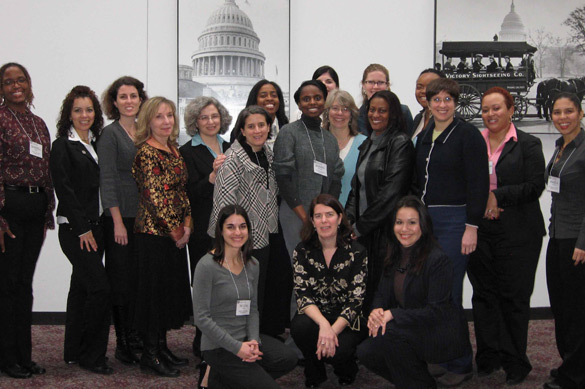 HCO and MCFG staff at the February 26, 2008 Lobby Day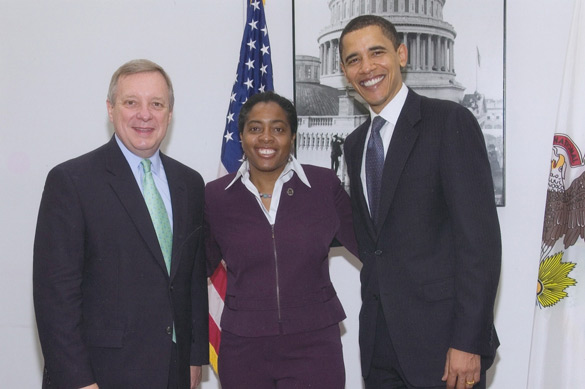 Illinois State Senator Dick Durbin; Jere McKinley, HCO Program Replication Manager, President Barack Obama
McAlpine Consulting for Growth has worked with HCO since August 2002, providing policy advocacy to establish federal funding for community-based doula programs in the United States. McAlpine Consulting provides direct advocacy services by connecting to and building relationships with elected officials at the federal level to educate them about the importance of the community-based doula model. In addition to direct advocacy, McAlpine Consulting for Growth guides the grassroots advocacy efforts of HCO's national Community-based Doula Network, comprised of several hundred members from across the country.
The first-ever federal funding stream for community-based doula programs was signed into law by President Bush on December 26, 2007 as part of the omnibus appropriations bill. This bill, which included $1.536 million in funding available to community-based doula programs through a competitive grants process, marked the culmination of years of hard work, but also the beginning of a new phase.
HCO was recently named the Community-based Doula Leadership Institute and granted an award from the federal funding of $590,000 over 2 years to provide training and assistance to a cohort of six community-based doula programs. McAlpine Consulting will continue to direct the grassroots policy advocacy work to maintain and expand the federal funding stream.
In addition to policy advocacy, McAlpine Consulting for Growth also provides event and conference coordination for HCO. On February 26, 2008 in Washington D.C., HealthConnect One co-hosted a very successful legislative briefing with the office of Senator Richard J. Durbin (D-IL). Mairita Smiltars assisted HCO with the planning and event coordination for the Lobby Day, which included twenty participants from doula sites in five states and the District of Columbia.
Mairita Smiltars also provided conference coordination for Birth, Breastfeeding & Beyond, a national networking conference that provided a forum for stakeholders and practitioners to learn, discuss, and plan around community-based approaches to promoting the health of women, infants and their families.
"Laura's expertise and skill in policy and advocacy work has been invaluable to our growing national doula replication efforts. Her superb organization, easy availability and professionalism make it simple to integrate her role as a consultant into the ongoing work of our agency. The existing relationships she brings to our work and the ones she has helped us cultivate have pushed our advocacy agenda forward. Without a doubt, we would not have achieved our current level of progress in the policy arena without Laura's thorough planning, strategic advice, and supportive presence."

"Mairita Smiltars has provided HCO with efficient, effective conference coordination services, and brings to this work the benefit of her broader expertise in advocacy, PR, and project development. She is sensitive to the complicated issues of community-based organizations, and balances efficiency with inclusive relationships and collaborative decision making."

– Rachel Abramson, Executive Director, HealthConnect One