Client Stories
At McAlpine Consulting for Growth, we know that stories are shared in many ways. Some are spoken, some are drawn. Some are long, some are short; some are stream of consciousness, some are concise equations; still others are haikus. We invited a handful of our clients, past and present, to share their stories about working with MCFG, in whatever form they chose. Below are the responses we received. Enjoy reading our client stories, and please feel free to send us yours!
For a full list of past and present MCFG clients, please click here.
The Center for Enriched Living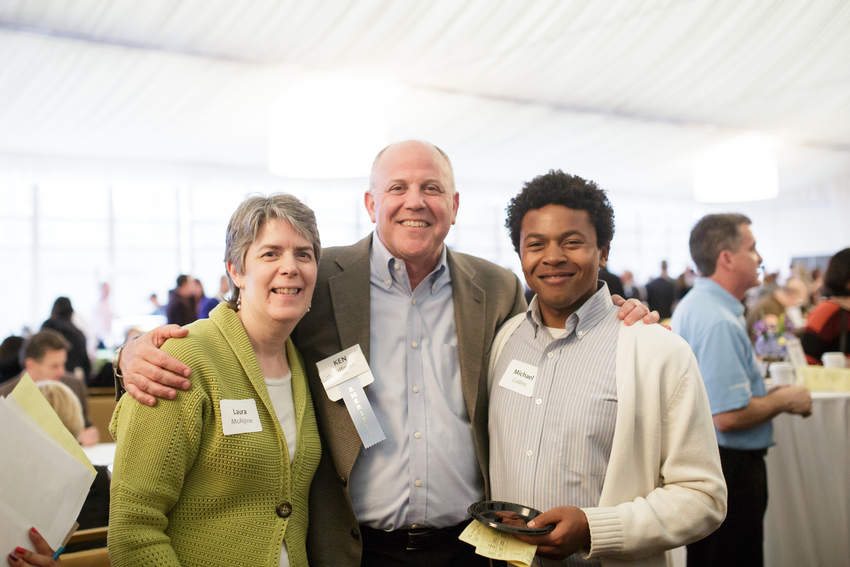 "Our team of staff, board, and volunteers love working with Laura McAlpine and her talented team. Who knew that writing a Strategic Plan could be so much fun!"
–Harriet Levy, Executive Director, The Center for Enriched Living
How we helped…
In 2012, MCFG began work with The Center for Enriched Living on a twelve-month strategic planning process. Bridging their passion for supporting people with disabilities with their enthusiasm for strategic planning, Laura and Mac facilitated extensive information-gathering and writing processes, facilitating two board retreats and two staff retreats along the way. Laura and Mac loved working with The Center for Enriched Living, learning new strategic planning skills and tools and providing support to the board and staff in their work positively impacting the lives of their members.
Illinois Public Health Institute
Laura, Mairita
Masters level consultants
Mac keeps them working
—
Stakeholders engaged
Insight, ideas, talking, food
Many miles logged–Peter Eckart, Director of Health and Information Technology, Illinois Public Health Institute
How we helped…
In 2011, McAlpine Consulting was contracted by the Illinois Public Health Institute (IPHI) to help facilitate a series of Town Hall Meetings and Focus Groups all across Illinois. The Listening Tour went to a total of 11 cities ranging from Carbondale to Joliet; Peoria to Effingham; Moline to East St. Louis. Laura, Mairita and Mac joined IPHI's Peter Eckart and Sarah Rittner in the tour bus (i.e. minivan) to all 11 cities visited, and, in addition to facilitating the meetings, shared many meals, laughs, and pickles with Peter and Sarah. Peter commemorated the experience through two haikus.
HealthConnect One
Professional, Expert, Organized, and Fun! HealthConnect One + MCFG = Super Synergy
— Jere McKinley, National Program Director, HealthConnect One
"Laura's expertise and skill in policy and advocacy work has been invaluable to our growing national doula replication efforts. Her superb organization, easy availability and professionalism make it simple to integrate her role as a consultant into the ongoing work of our agency. The existing relationships she brings to our work and the ones she has helped us cultivate have pushed our advocacy agenda forward. Without a doubt, we would not have achieved our current level of progress in the policy arena without Laura's thorough planning, strategic advice, and supportive presence."
"Mairita Smiltars has provided HCO with efficient, effective conference coordination services, and brings to this work the benefit of her broader expertise in advocacy, PR, and project development. She is sensitive to the complicated issues of community-based organizations, and balances efficiency with inclusive relationships and collaborative decision making."
–Rachel Abramson, Executive Director, HealthConnect One
How we helped…
For twelve years, MCFG worked with HealthConnect One (HC One) on policy advocacy to establish a federal funding stream for community-based doula programs in the United States. First Laura, and later, Laura and Mac worked with HC One to devise a national, grassroots advocacy strategy to build relationships with elected officials at the federal level to educate them about the important benefits of the community-based doula model. Laura and Mac also worked with HealthConnect One's National Community-Based Doula and Breastfeeding Peer Counselor Network to cultivate advocacy champions (or, as we like to call them, Super Heroes), across the country. In addition to policy advocacy, McAlpine Consulting provided event and conference coordination services for HC One, led by Mairita Smiltars.
Foundations of Music (Formerly Rock For Kids)
"Laura McAlpine and McAlpine Consulting for Growth helped Rock For Kids to meet the challenges of a transitional period head on during the financial uncertainty of the recent global recession. Rock For Kids is an organization with a grassroots past. Initiated as a fundraiser in 1988 by volunteers, Rock For Kids began offering music lessons in 2000. By 2008 the organization was testing out its new music education curriculum in partnership with Chicago Public Schools but was also facing a changing fundraising climate and a growing demand for services. Enter McAlpine Consulting For Growth. Laura and her team facilitated a staff board retreat for Rock For Kids in August of 2008. Laura's calm and professional approach helped to quell the staff and board members' butterflies without downplaying the serious nature and urgency of the topics at hand. In 2010 McAlpine Consulting For Growth led Rock For Kids through a Strategic Planning Process that resulted in a Five-Year Strategic Plan and a mission rewrite. McAlpine and her team taught Rock For Kids board members to harness the passion and dedication to community that had drawn them to the organization, and that had in the past resulted in the organization's organic growth and focus it on the kind of long term problem solving and planning that leads to strong strategic growth. Laura helped Rock For Kids to embrace logical and sequential thinking and planning as an integral function of running a successful organization. These values were fundamental in empowering Rock For Kids to navigate the rocky waters of change during a financial crisis, and the results speak for themselves. Rock For Kids has successfully focused its programming exclusively on music education in Chicago Public Schools and is on track with the goals outlined in its Five-Year Strategic Plan. Rock For Kids continues to work with Laura and is currently engaged in Executive Coaching and is looking forward to its annual staff board retreat."
–Maria Mowbray, Executive Director, Rock For Kids
How we helped…
In 2010, Laura and Mac did strategic planning with Rock For Kids, a nonprofit that provides music education to underserved children in Chicago, sparking creativity and passion, teaching critical thinking, supporting academic achievement and enriching young lives. Seizing the opportunity to work with an arts-focused group, Mac made her first major foray into strategic planning with Rock For Kids. She and Laura helped the organization update their mission and create their five-year plan for the future, the process which Maria Mowbray, Executive Director, describes below. After the strategic planning process ended, Mac joined the organizations Junior Board, and Laura still works with Rock For Kids, providing leadership coaching.